Hi.
This post is ALLL about Gossip Girl & is basically a 'Gossip Girl 101 for Dummies' crash course. I think it would be considered wise for you to read this before watching Gossip Girl. I'll try not to include spoilers, just basic character outlines & any other need-to-knows.
:)
The Upper-East Side.
I like to think of her as a character, & I believe the city really is important to the story. The city & what part of the city you live in pretty much seal your fate. The Upper-East Side is for the rich & famous & not for the feint-hearted. She changes people.
Serena van der Woodsen.
Protagonist. A true Blond Bombshell & a bit of a train wreck. Scandal follows her wherever she goes. But what's not to love!
Blair Waldorf.
The best friend. But she's much more than just that. Blair's the Queen B, at school, at home, at college. Everywhere. She's Blair Waldorf & everyone knows it. She's preppy & has a fetish for headbands.
Nathaniel 'Nate' Archibald.
Good looking, rich boy with family issues. He's hot but also probably the only 'typical/average' guy in this story. He's real, like-able & he loves sports, video games & giving relationship advice to his mates. ;)
Charles 'Chuck' Bass.
The gazillionare. The bad-boy. The flirt. He like his hundred dollar bills, cold & with side-serving of hookers. Just like his martinis. Chuck has many nicknames: Bass-hole, Mother-Chucker, Bass-tard, just to name a few.
Daniel 'Dan' Humphrey.
The 'Lonely Boy' from Brooklyn. He's a writer. Kind of a nerd. But a cute nerd, who unfortunately like everyone else gets chewed up & spat out by the Upper-East Side. But none the less he's still the good boy & the teacher's pet.
Jennifer 'Jenny' / 'Little J' Humphrey.
The little sister of Dan. Wannabe Fashionista. Loves designing & getting with alllll the wrong people. Little J goes from cute sister to Gothic Barbie in 0.3 seconds. Some people blame her connections or her rebellions but everyone really knows that it was the Upper-East Side that got to her.
Vanessa Abrams.
Another Brooklynite. Old friend of Dan's. Comes back into Dan's life & instead of falling back into his arms as she may have wished, the Upper-East Side claims another victim.
Eric van der Woodsen.
Is the absolutely adorable little brother of Serena. He tried to commit suicide when he was 13 & has had a bit of hard time. He has Daddy issues & you find out early on in the series that he's actually gay. He's one of my favourite characters & also not so tainted by the Upper-East Side. He reminds me of a cute puppy; loyal, friendly & down-to-earth.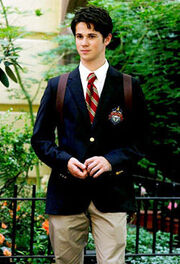 And last but not least...
Gossip Girl, herself.
The blogger, the stalker, the only one you've got to worry about. Make your life a living hell? Yep, she can do that. No-one knows who she really is, but she sure has her finger on the ball. I don't think we'll ever know, it just adds to intrigue!
Well, what are you waiting for? Fashion, High-School & lifestyle on the Upper-East Side awaits.
Get watching bloggers.
~C